Since the old blog went away, I've been missing some of my favorite posts. So every now and again they will resurge!
"Why Hello There Mr Cool"
If you're walking around Hayes Valley and want to pop in to remind us how cool you are on an everyday basis, please feel free. Mr. Cool over here reminds us of the relevance of monochromatic pieces from head to toe, and the idea of non color as a color.
The first look, Cassette waxed cotton jacket, Endovanera henley, April 77 denim, AA scarf, Common Projects. Notice, no color, but looks oddly vibrant nonetheless.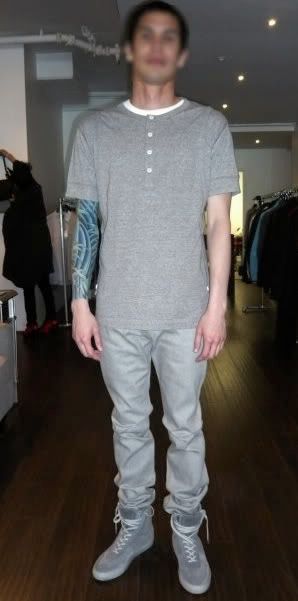 Then we fell in love with the monochrome grey outfit he tried on in the shop: YMC henley, Nom de Guerre selvedge denim, Common Projects.
It's pretty easy guys, keep up.