…of what I love so much about street style. All this black drapey stuff has clouded my brain about what I really like about men's fashion.
Free the Robots, 6/4/09 on Vimeo.
Free the Robots and Flying Lotus played last night. The show was good but the crowd was far more inspirational. San Jose dudes are super heavy on the Supreme, Visvim, Sophnet, Wtaps (pretty much anything carried @ the GLADE). That started me thinking about Sidney Lo's photo diary documenting a year in the life of his raw denim.  Raw denim, a t-shirt, sometimes a flannel, a fedora, sometimes a New Era, thick framed glasses and some fresh kicks. Simple, clean, classic and timeless. How can that not be timeless? Moreover, it looks fly. I'm bringing street back>>>into the shop, that is.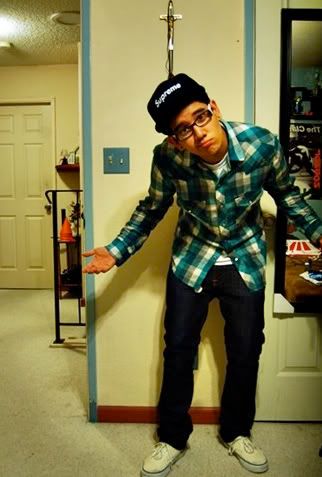 cute…via Lookbook.nu