Tokyo is nearly impossible to do in 6 days. But if you must, this is the Acrimony guide to doing Tokyo right.
Day 1:
Sleeping: Stay at the Granbell Hotel, Shibuya. Central to everything, nice sized rooms with those Japanese toilets that spray all sorts of water everywhere. Heated toilet seat included. Don't forget to take the "limousine bus" to the Cerulean Hotel and walk around the corner. $30 vs $200 in a taxi.
Shopping: Walk to Daikanyama to see LIFT (all 3 locations). LIFT has a nice selection of drkshdw/Rick Owens, Stephen Schneider, Bless, Kris van Assche and my personal favorite to see in person, Mihara Yasuhiro. The thing about Tokyo is that all the shops are so well curated, from top to bottom, inside and out. Even shops that are full of crap look like it was done on purpose. Also in Daikanyama, one of the bigger CA4LA shops. Hats hats and more hats! Borsalino and Tsuyoshi Domoto collabs. Buy a hat here! There's also a bangin' nail salon. Getting your nails done is a must. All the Japanese girls have sparkles and glitter on their nails, let's try to fit in, OK?
Daikanyama is full of American/European shops that you can frequent in any country. So please, find your way to JULIUS. Hidden in a strip mall, above a hair salon and next to a weird antiques shop. It's upstairs. The guys that work there probably have ninja stars under their capes. And don't get weirded out when they ask you to remove ALL your belongings. I guess that's how JULIUS gets you to spend money. It worked on me.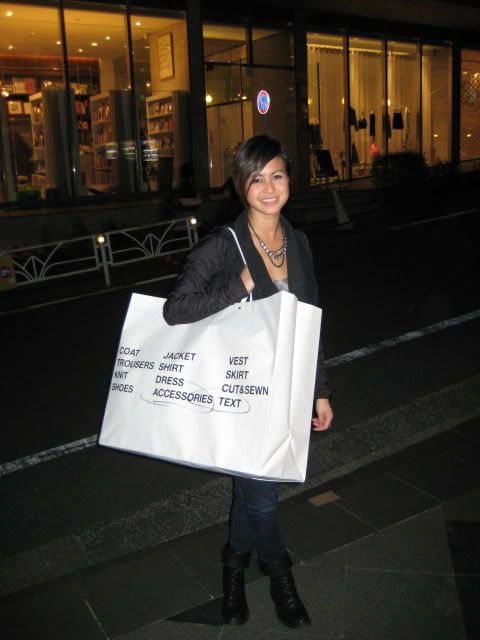 Beams is also here. Check out the B*Yoshida shop with a ton of Porter/Head Porter bags. Almost got lucky with the Wacko Maria x Head Porter velvet tote but the thing was on pre-order. BOO.
Ran into Kiya from SELFEDGE, in Tokyo, of all places. Well, @ F.I.L. to be exact. And that's sort of predictable. He recommended OT & Emotional for your local purchase of Sugar Cane denim. It's way cheaper in Japan, obviously.
The staff at most shops can speak a little English. But it doesn't really matter as long as you have a credit card. It's the universal language of shopping.
Eating: There's a place right down the street from the hotel, walk up the hill, it's right across from the 7-11. Austin from Odyn Vovk was gracious enough to share the little joint with me. For some reason I thought they would speak some English, but NOPE. Just say "sake" and you should be fine.
Drinking: Find the alley near Shibuya station that has a strip of super small bars. When I say small, I mean, SMALL. They seat about 4 people each. The bartender will stare at you (with love) and make sure your glass is full. Try the Yamazaki whiskey, brewed in Japan. And the best part is that you're just a few steps from falling face first onto your bed.